COFFEE FOR LIFE
Our Coffee of the Month Subscription features rare and exclusive micro-lot coffees. Each one is only available for the month it is posted. To shop our regular coffee offerings, click the link below. Scroll down to learn more about Coffee of the Month.
Coffee of the Month Subscription
Experience a new taste every month and get to know the stories behind some of the farms we partner with.
Subscribe now and get a new, exclusive selection of the finest single-origin coffees delivered to your door. Our coffee is ethically sourced from carefully selected farms that yield quality coffee and unique flavor profiles.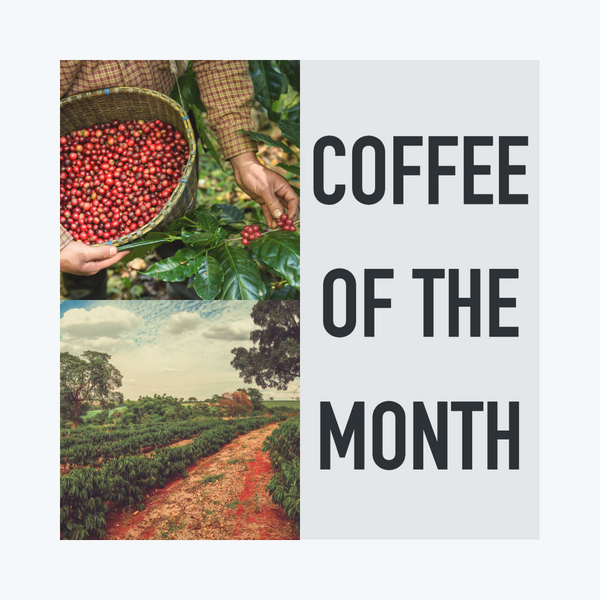 Select a tab below to learn about our previous and current Coffee of the Month
May Coffee of the month
Origin: Papua New Guinea
Region: Morobe Province
Farm/Co-op: Morobe Mountain Coffee Export Limited(OCFCU) 
Cupping Notes:  Medium Acidity and Body,  Stone Fruit, Nougat, Dried Fruit with Savory Undertones.
Altitude: 1700-2000 M
Processing:  Washed and Sun Dried
Varietal:  Typica, Bourbon, and Arusha
Certifications: Organic
Morobe Mountain Coffee Export Limited is a coffee company based in Papua New Guinea that has been producing and exporting high-quality coffee for over 20 years. The company works closely with more than 700 local farmers to ensure the beans are grown and harvested sustainably and to the highest standards of quality. They invest in infrastructure and technology to improve the efficiency of their operations and maintain the quality of their beans. Morobe Mountain Coffee has a strong commitment to social responsibility and supports various community development projects, including education and healthcare initiatives. They also employ a significant number of women in their workforce and provide them with opportunities for professional growth and development.
In addition, Morobe Mountain Coffee is certified organic by various organizations, including the USDA, EU Organic, and JAS. This means that their coffee beans are grown without the use of synthetic pesticides or fertilizers, which promotes environmental sustainability and protects the health of the farmers and workers who handle the beans.
April Coffee of the Month
Origin: Ethiopia
Region: Oromia Regional State
Farm: Oromia Coffee Farmers Cooperative Union (OCFCU) 
Cupping Notes:  Bright Acidity, Medium Body, Black Tea, Cardamom, Molasses, Lingering Finish. 
Altitude: 1550-2200 M
Processing:  Sun Dried
Certifications: Organic
Harvest Months: Nov to March
For over two decades, the OCFCU has been a leader in the production of high-quality organic Arabica coffee cultivated in the Oromia Regional State, which is home to more than 65% of Ethiopia's coffee-growing land. The cooperative follows the principles of the International Cooperative Alliance and Fair Trade, allowing its members to process and export coffee directly. Through this, coffee farmers benefit from increased revenues, improved livelihoods, and a strengthened sense of community. With coffee being the main export commodity in Ethiopia, supporting the OCFCU is a vital contribution to the livelihoods of more than 15 million people.
March Coffee of the Month
Origin: Nicaragua
Region: Matagalpa, El Arenal Nature Reserve
Farm: Finca Los Pinos
Cupping Notes:  Bright acidity, rich body, black cherry, blueberry, brown butter.  Nice Complexity
Altitude: 1350-1450 M
Processing:  Full Natural, Sun Dried on Raised Beds
Varietals: Caturra, Lembra, Sarchimor
Certifications: Organic
Roast Level: Medium
Byron Corrales of Finca Los Pinos boasts a well-respected reputation in the region for the farms' exceptional quality coffee. With 55 hectacres of family owned farms, Finca Los Pinos has taken an organic approach and maintained a healthy ecosystem by integrating forested areas to improve water retention and bean quality. The farm is known for their comprehensive water management and fertilization system that uses a combination of coffee waste, cow manure, and locally sourced minerals as micro-nutrients. With such a limited yield, Finca Los Pinos' coffee is an exclusive product sure to please any coffee connoisseur.
February Coffee of the Month
Origin: Guatemala 
Region: Huehuetenango 
Farm: Single Estate 
Cupping Notes: Green Apple, Lemon, Milk Chocolate, Nougat, Roasted Almond, Toffee, and Vanilla. 
Score: 83.67
Mario and Raquel began growing coffee in 1966 and in 1972 established Los Laureles II. They planted the farm with traditional cultivars for the area- Pache, Caturra, and Bourbon. Maragogype and Gesha were added, and most recently, Anacafe and Marsellesa have been planted alongside avocados. These crops have unique flavors and characteristics, which means a more diverse range of buyers interested in the coffee. 
At 95, Mario is still very much on the farm, supervising the care of the trees and the harvest with the support of his sons. 
January Coffee of the Month
Origin: Uganda. 
Region: Mt Elgon
Farm Certifications: Rain Forest Alliance, Organic Grown
Altitude: 4100-7200'
Process:  Washed and Sun Dried on Raised Beds.  Hand-sorted in traditional fashion.
Varietal: Bugusu, Nyasaland
Sourced from family-run small farms that have been passed down through four or more generations. The coffee from the Mt Elgon region of Uganda is a medium-dark roast boasting notes of brown sugar, vanilla, lemon, raspberry, and peach.
Selecting the right grind
Great coffee for a great cause
Love the coffee which is uniquely sourced and expertly roasted. The best part is supporting life with every sip! Thanks for what you do North Arrow
Love getting variety in one subscription
First of all this is the freshest most favor filled delicious coffee ever! I really really am excited to get a chance to try a variety of coffees without ordering more than I need….THANK YOU!!